The Honda Battery Warranty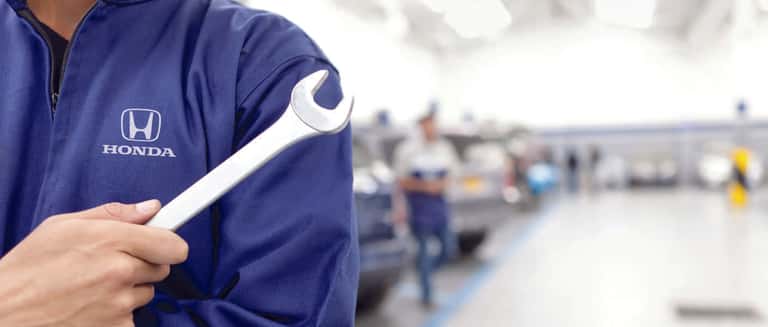 Every replacement Honda car battery you purchase comes with the Honda 100 month battery warranty. This helpful Honda battery warranty protects your investment for about 8 years, and allows you to drive on Freehold roads confidently and at ease. Your original battery on your Honda is covered by the New Vehicle Limited Warranty, which is valid for 3 years or 36,000 miles. Keep reading, and the experts at our Lakewood parts center will tell you more about parts warranty coverage.
How Often Should I Replace my Car Battery?
Most car batteries last somewhere from 2 to 5 years, but many factors affect your battery's lifespan. Your battery's performance can be affected by your driving patterns, extreme heat or cold from the weather in Toms River, and regular use. With time, your battery will lose its ability to hold a charge, and if a vehicle is left parked for an extended period, the ability of the battery to start can be greatly deteriorated. At that point, you'll need to order a replacement. 
Can I Extend my Battery's Life?
You can! There are actually many ways to do so. Just like any other part of your vehicle, conscious care can extend the lifetime of your battery and keep you traveling through Jackson without worries. Here are some easy ways to extend your battery's life:
Turning off lights at the end of your drive – When you leave your headlights or cabin lights on after leaving your vehicle, they drain your battery. This also pertains to using electronics like the radio when you're idle, which make the battery work harder as the engine isn't running. Be sure to avoid both of these behaviors.
Avoiding short rides – Quick trips don't give your car battery enough to fully charge. A sudden spike in temperature can also put extra strain on the battery.
Performing regular maintenance – Regular scheduled service where technicians examine and check your battery's performance, protect your battery immeasurably. This is because any problems or small fixes get noticed before they become anything larger.
Trust Honda Universe to Care for Your Battery
We here at Honda Universe want you to get the most out of your Honda battery warranty and Honda 100 month battery warranty. If you still have questions about how to care for your battery or how to jump start a car, feel free to contact us and we'll be happy to answer them.
More from Honda Universe
  How much can a 2021 Honda Pilot tow? The Honda Pilot towing capacity reaches 5,000 pounds when drivers upgrade to the AWD system. Whether you're headed out on a Freehold weekend adventure or a cross-country road trip, the Honda Pilot has the power and capability to help you pull your boat, trailer, or…

How much can the Honda CR-V tow? The soon-to-be released 2022 Honda CR-V towing capacity is 1,500 pounds as standard, and its maximum payload capacity comes in at 850 pounds. These numbers make it a standout option in the segment. Learn more about the CR-V towing capacity, and find out how these numbers can translate…

The Honda Accord is a popular commuter sedan in Jackson due to its suite of interior features and powerful performance. In addition to keeping you comfortable and entertained on your commute, the Honda Accord can also be customized to match your personal style with the 2021 Honda Accord color options. Whether you prefer to stand…